The raws. R3 is the Trenbolone Enanthate and G is the Testosterone Enanthate. Had to ask the source which was which.
I did it in a few steps/days
-First I sterilized everything I needed (vials, receiver flasks, ...).
-Then did Labmax tests.
-Then mixed and filtered everything.
-And finally transferred it all to vials.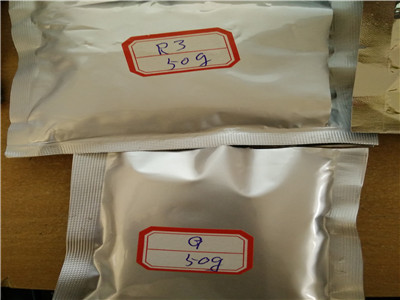 I first did a Labmax test on both. This is the Test E, with me shining the UV light on vial B.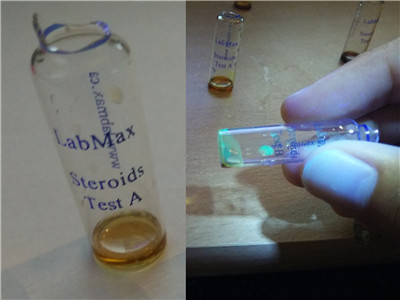 And this is the Tren E. The colours looked good and matched what the Labmax test said they should be.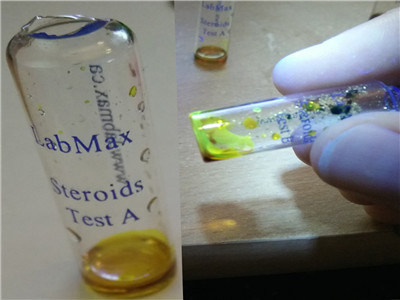 After mixing the BA, BB and the raws, it was very cloudy and had to sit for awhile (right one is not cum, it's the tren).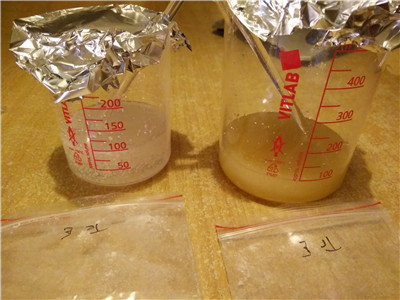 After awhile I boiled some water and submerged the beakers halfway. They ended up like this. The Test E still had to sit a bit longer.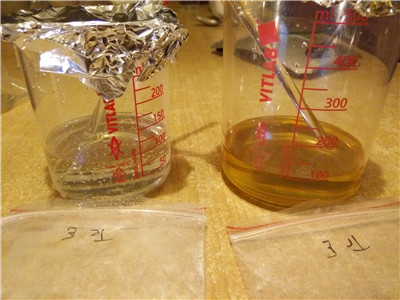 This was after adding grapeseed oil and submerging them again, both ready for filtering.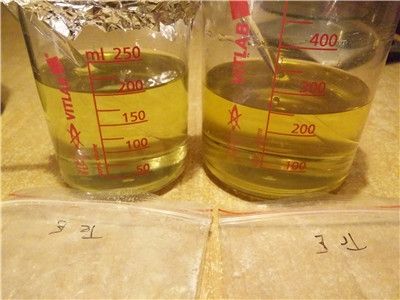 Only picture I took of the filter... There's a glass receiver flask under the filter and a brakebleed kit connected to the plastic tube. I used the same filter for both compounds, but somehow it couldn't hold any pressure with the second compound (Tren) so I replaced it.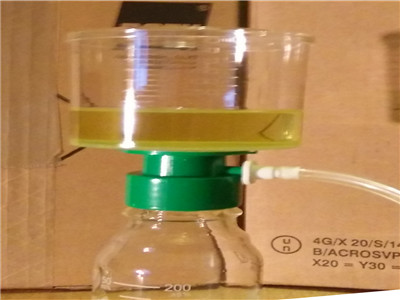 Finished brew. I have around 250ml of Tren E at 200mg/ml, and 200ml of Test E at 250mg/ml (bit less, probably due to the filter, and the measurments being off a bit).
Better picture.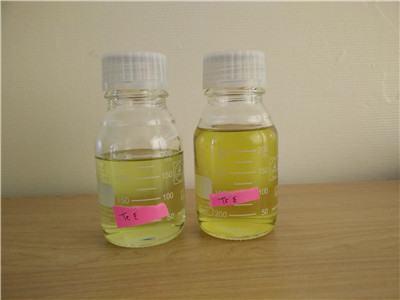 After transferring to vials (my least favourite part): 10 20ml vials of Test E. The labels were from my first homebrew, when thought I'd get 10ml vials (vendor didn't mess up and sent the 20ml ones I ordered). Only, the aluminium caps don't fit properly these, so I'll have to use them like this.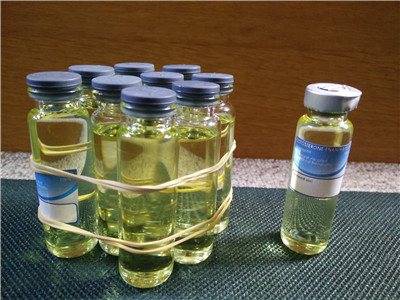 First brew was Test E & Tren A. Second was with the leftover raws from the first brew, and failed. The Tren A turned brown and the Test E left me with painful lumps. I think that either the raws or the BA & BB went off.This third one was a success. Pinning is good, but I'm only a week in so I'll have wait to see about the other effects.